You've finally decided to marry your soulmate after overcoming all the odds. Woohoo! It's a proud moment because here's another LGBTIQ+ wedding-ready to go! You've chosen not to be pressured by societal norms or expectations and you've proven that love has no boundaries.
It's never been easy for LGBTIQ+ couples to celebrate their love because of the associated societal taboo, but you've proudly chosen to say, "I do" and you're ready to share your life with your partner forever!
Since it's your BIG DAY, make sure you don't stick to the ordinary when picking out your wedding rings. To make your wedding ring as unique and special as your relationship here's all you need to know about selecting and buying that perfect ring for your LGBTIQ+ partner.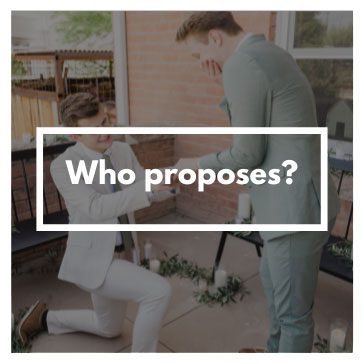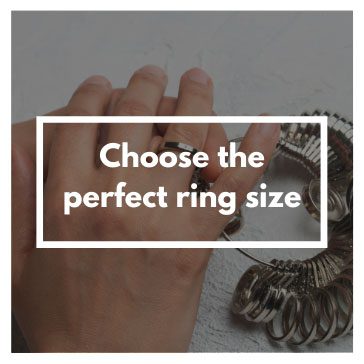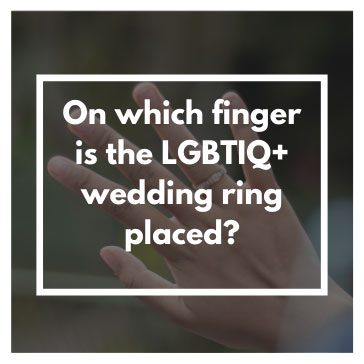 It may seem to be a stereotypical assumption but, traditionally, men propose to women for marriage. Yours being an LGBTIQ+ marriage can make you wonder if you should propose to your partner or if they should propose to you.
If you've not already proposed to your partner and are waiting for them to do it, it's time to break the ice and do it! Let go of that shyness and simply tell them that you want to spend your entire life with them.
How to choose the perfect ring size for your partner?
"What size ring would fit my partner?" is a question that lots of fiancés or fiancées ask before marriage. Well, it's a tricky question for which you can't find an answer here.
But what can you about it? 
If you and your partner live together, perhaps measure their ring size when they're sleeping. Otherwise, perhaps you can get one of their rings and get an idea of their ring size by trying it on.
Another great option would be to get some help from their close friends or family. However, that may not be the ideal option for a wedding ring because it's going to be something your partner will wear for the rest of their life. So, think about shopping for your wedding rings together!
When to buy the wedding ring?
It's better to buy it now than to delay it. That way, you can avoid any delays in getting them made, too. You may also need to get the wedding ring changed or adjusted, or customized, which may take more time than you think. So, my advice would be to get it before you miss out!
Where to buy an LGBTIQ+ wedding ring?
If you're wondering what's the perfect place to shop from, there is no perfect place! You'll need to explore a range of jewelers according to your taste and pick out what suits you the most.
Some jewelry store sales staff may intimidate you by questioning you about your marriage choice – ie they're not particularly LGBTIQ+ friendly. Ask them if they've catered to LGBTIQ+  couples before. If you get so much as an inkling of them being homophobic, take your money elsewhere.
Perhaps consider shopping online. Shopping online can give you various options to explore, from precious diamonds to antique engagement rings and from customizable rings to LGBTIQ+ symbol rings. You can also find some vintage and emerald collections online. Online shopping also enables you to shop at leisure from the comfort of your home.
On which finger is the LGBTIQ+ wedding ring placed?
The placement of the ring is a common question asked by members of the LGBTIQ+ community. Typically, straight couples wear the wedding ring on the third finger of their left hand.
However, lots of LGBTIQ+ couples prefer wearing it on the third finger of their right hand.
Of course, there's no fixed set of rules. As an LGBTIQ+ couple, in lots of ways, you've acted beyond the societal standards of the institution of marriage. So, it's truly your choice whether you wish to follow this or not. If wearing it in the left hand makes you feel better, do it!
If you wish to wear it on your index finger, do that! Just do whatever you like! You can check out other LGBTIQ+ Wedding rituals and traditions here.
Should you both buy the same design rings?
Your wedding is a great opportunity to kick out the notion of "who is the groom, who is the bride". Lots of LGBTIQ+ couples don't have gendered roles in their relationship – so why would you adopt them on your wedding day?
Think hard about getting a band that looks attractive to you and your partner. It can be blue, it can be pink, it can be any color, and it can be the same or different for you both, totally your choice.
You may have seen LGBTIQ+ couples wearing matching design rings. You may wish to do the same. Again, it's your choice! You both can wear different rings. But, if you and your partner have the same tastes, you may consider wearing matching rings.
Rainbow rings look fabulous on LGBTIQ+ couples, as they represent their beliefs and values.
Is a wedding ring the same as an engagement ring, or is it different?
Some LGBTIQ+ couples prefer to use the same ring for their engagement and wedding while some like to keep them different, ie go for 2-2 rings each. If you wish to get separate rings, you can go ahead with buying them. It's very much a personal choice.
Which metal should our wedding rings be made up of?
Are you wondering what material the ring should be made of? Remember that a wedding ring has to be worn throughout your entire life. So, durability and comfort shouldn't be things that you compromise on. The most common materials used for wedding rings are gold and platinum. However, if you don't have a big budget, think about having your rings made of steel or cobalt.
Be careful of your metal choice if you're allergic to any metal or don't find any metal comfortable for daily wear (the same goes for your partner).
What are some of the best options for LGBTIQ+ wedding rings?
For women, a diamond center stone with side stones is the most popular engagement ring choice, while 30% prefer a solitaire. Let us look at some of the other choices that you can consider.
LGBTIQ+ symbol rings
Some LGBTIQ+ couples wonder if their ring should contain the LGBTIQ+ symbol or not. It's not a requirement. However, if you wish to have it, you can go with a ring with the LGBTIQ+ symbol – it makes a discreet political statement.
If you're bisexual, you can get one with blue and pink overlapping triangles, the bi-pride colors – the same applies to other members of the LGBTIQ+ community. Obviously, you can go for any traditional or diamond ring, too.
Gemstones / Diamond rings
Usually, a diamond is said to be a woman's best friend. But that's again a stereotypical assumption. Men are equally attracted to diamonds and flaunt them as beautifully as women do. So, if you're attracted to diamond rings, you shouldn't give it another thought and get it, whether you're a gay couple or a lesbian couple, or any part of the LGBTIQ+ spectrum. Sterling silver rings can also be a great choice.
Quirky rings
Traditionally, wedding rings are made of precious metals such as gold or sterling silver. A stereotypical view of LGBTIQ+ couples insists that colours define us. So, why not show off your quirkiness by playing with colours? Go for a blue and pink or a yellow and red, or combinations that most resonate with you and your partner.
Rainbow rings
The rainbow is a global symbol of pride. Rainbow rings look fabulous on LGBTIQ+ couples, as they represent their beliefs and values. A sterling silver ring with vivid round-cut rainbow sapphires would catch everyone's attention!
If that's what you or your partner are fond of, consider getting rainbow rings for yourselves.
Customised or personalised rings
While there aren't many pride rings available, you can get one customised for your wedding.
In terms of customisation, you can choose to get your or your partner's name (or fingerprint) embedded. Alternatively, you can get any word or term engraved which you believe defines your unique relationship.
Or you can buy a plain band and get it customised by adding some coloured stones and gems. You may find some websites of businesses that customise rings. You may also find some jewellers who do it!
Are you still unsure what LGBTIQ+ ring to get for your partner?
If you are still out of ideas, you can check out some renowned LGBTIQ+ personalities, for inspiration. Look at Neil Patrick and David Burtka, Jonathan Adler and Simon Doonan, John Barrowman and Scott Gill. You can consider the rings they wore and potentially get some inspiration and alternative ideas for yours.
Lori Wade is a freelance content writer who is interested in a wide range of spheres from education and online marketing to entrepreneurship. She has been writing and editing professionally for over five years.
This error message is only visible to WordPress admins
Error: No feed found.
Please go to the Instagram Feed settings page to create a feed.